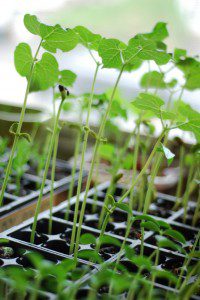 Bring the Farm into your classroom or center with a program that will immerse your audience in the life cycle of plants.  Our garden guru will kick-off the program with an activity that will teach students about soil and planting.  Students won't just be passive observers!  Their hands will be dirty and their minds engaged as they plant containers and learn about growing under a grow light. The planted seeds and grow lights will remain in your classroom as your students discover daily the changes that take place as their seeds grow into mature plants.
In this 6-week package, you'll receive:
• A one-hour "Soil, Seeds and Sprouts" in-class activity that will kick-start your growing classroom
• Soil, seeds, and growing containers
• Grow lights and watering cans
• Classroom lessons, worksheets and templates
• Private access consulting by phone or email
* Worm Composting is a wonderful companion program to the Growing Classroom!