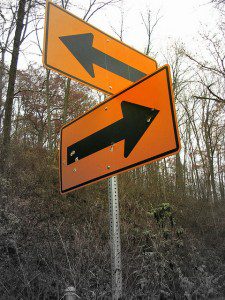 A Year Changes Everything
by Christa Hein
Last year at this time I was a mess.
It doesn't do me any good to rose color the past, so I'll just call it as it was, a messy transition full of indecision, confusion and emotions.
I had been working at the Stratford Ecological Center for 15 years, doing a job I enjoyed.   But something was no longer working for me.  I had released too many of the responsibilities I loved.  And like any family of friends, the dynamics had changed.  I felt like an outsider in a place that had been my home – my heart had moved on.
I imagine that people who fall in love with someone other than their partner feel the same type of emotions I was feeling.  I was falling in love with the idea of working for myself, but reluctant to give up everything I had known – the job, the people, the partnerships, the predictability.
But when you're in that type of messy transition, the one thing that can't happen is for things to stand still.  And so I took the first step and talked about my feelings with those around me.  I shared my dreams and my hope to both stay and go.
In the end though, I realized I had to go.  My dreams were too big for part-time.  To really give this idea that was bubbling around inside of me the chance it deserved, I needed to jump full time into the great unknown, giving all my thoughts and my full heart to this new lover.
And so I turned in my letter, jumped for joy, and cried.
And then I began.  Serendipity brought me a web designer who I knew and admired.  We started during Christmas break, spending several weeks full of constant communication, designs, writing and revisions.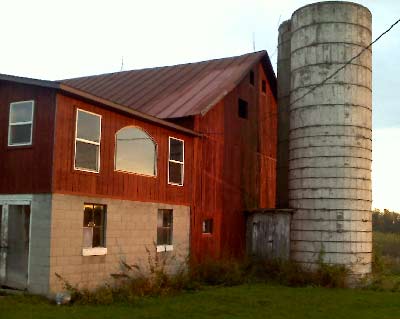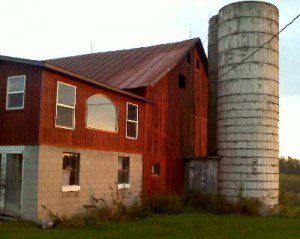 I sat for the first time in my new office, a beautiful space built atop our music room, the old milk house that had needed a new roof.  Without foresight of the business, I had suggested that instead of simply replacing the roof, that we create another room above the existing block building to be used for storage, guests and play.  As my heart started to ache for change, it became apparent that this yet unfinished room was meant to be my office.
As I sat looking out over the farm and wrote the words for the website, the business came into place.  Classes took shape and my message was formed.  Through writing, I was learning about myself and my abilities, realizing the depth I had to offer the world.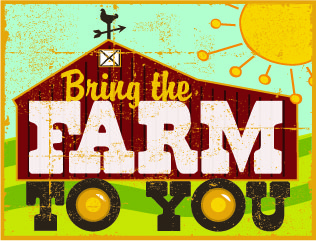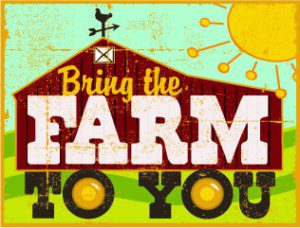 Alice, my web gal, turned me on to a designer, Becky.  With just a few instructions, Becky gave me a logo that turned my stomach into jello.  You know that feeling when you see someone or something that lights your heart on fire.  That's how I felt.  I wanted a touch of vintage with old time farming, mixed with fun and play – yet professional and adult.  It represented what I imagined for the business beautifully!  With a few more instructions, Becky created a banner.  I was on my way, official and looking good!
As I envisioned the programs, I began to make purchases for things I'd need.  My Oma, (my German grandmother on my father's side) had given me the gift of inheritance.  With money from the sale of the home where she gardened, canned, kept bees, made cheese, sauerkraut and donuts, I began to build Bring the Farm to You.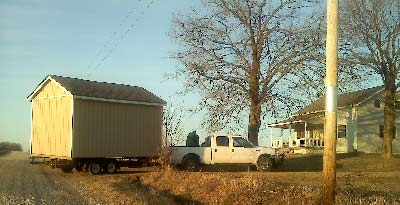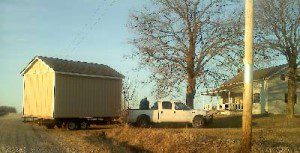 We bought a small barn off of craigslist, carted home at 8 mph on the back of a wagon driven by generous strangers.  We contracted a pasture fence and my husband built a new chicken house.  The old chicken house was moved to the pasture for turkeys.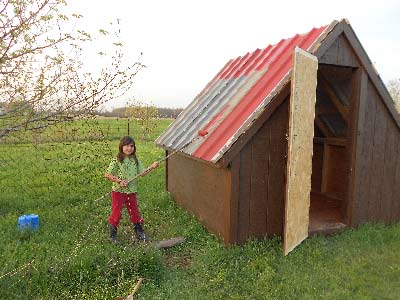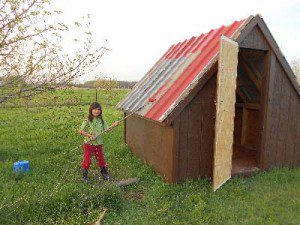 We found an outdated new trailer and had windows installed.  Becky created a postcard for marketing and Alice set up an online mailing list service.
My first programs came through people who knew me – a felting class, chick hatching program, beekeeping, and Your Growing Classroom.  Each program booking pushed me to detail – supply lists, evaluations, outlines, purchases.  Week by week, the programs on my website were coming to life, boxes full of equipment taking over our old music room, kicking the instruments to the house to make room for a business.
As I strategized and learned to dream big, the potential kept growing.  Mentored by a motivating business coach, I marketed and planned.  I took classes at the Small Business Development center, networked, and met with potential clients.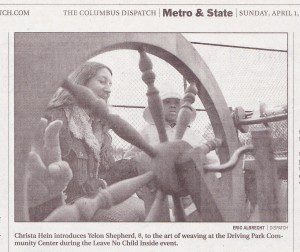 My first public event, the Leave No Child Inside Collaborative, took place at a community center.  I brought along young ducks and baby chicks, along with my spinning wheel, and a table full of program supplies.  That day I earned an award while gaining my confidence that I could do this!  I was photographed for a picture that ran the next day in the Columbus Dispatch.  And I booked my first public client.  I was in business.
Once spring began, the calls were flowing steadily as I figured out my systems – reservations, my new email server, facebook updates, insurance, and all the ins and outs of running a business.  My proposal to teach four classes at Ohio Wesleyan University's summer camp for honors middle school kids (called OWjL) was approved and unleashed the motivation to write and outfit four new week-long curriculums involving animals, cheese-making, maple sugaring, cidering, and a whole lot more.  I was traveling to teach chick hatching, organic gardening, beekeeping, and farm animal programs.  I was a whirlwind.
Within the swirl of creating the business and curriculum, I was also learning how to become a farmer.  Despite having kept bees for over a decade and raising chickens off and on, I had only helped farm as I taught people about agriculture.  Now I was getting a chance to do it day in and day out.  And I loved it!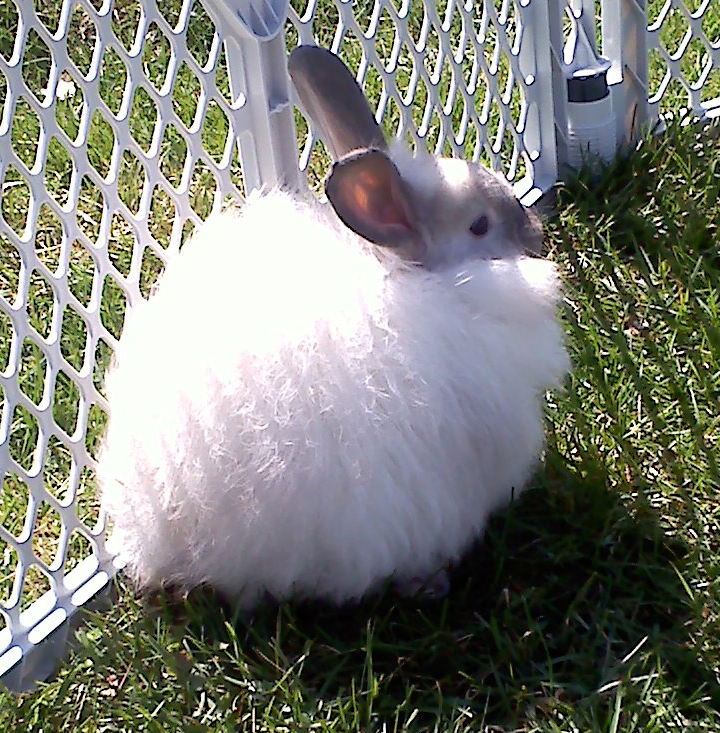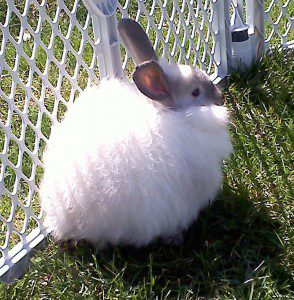 Sable was the first furry animal to arrive.  He's an angora boy bunny that is the softest and sweetest thing you've ever touched!  Turkeys joined us soon after, as did a second bunny, Fawn, picked out by my daughter as her own pet.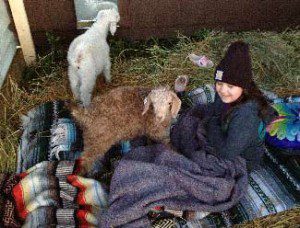 And then came the goats – the feeling of young motherhood appearing back in my life.  Starla and Charlotte were bottle babies.  They both lost their mothers to accidental poisonings of a herd through a mistaken feeding of yew plant.  They were 6 weeks old when they joined us and cried so much that first cool night that my daughter Sequoia and I grabbed our blankets and hats and slept in the barn with them on the hay.  We bottle fed them for over 2 months, watching them grow and become more interested in food than their bottles, but no less interested in getting rubbed by us.
Right around weaning, we brought home two Shetland lambs, skittish and jumpy.  They definitely weren't bottle babies, but after watching the goats run to us for several days, they started to greet us too – and eventually let us sneak in a petting.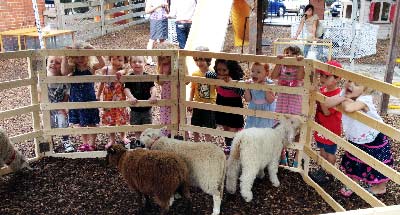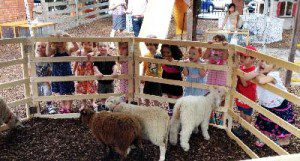 My dad built wooden cages and my husband Chris build portable panels for a pen.  We retrofitted our trailer to haul them all and we were on our way to our first Large Farm Animal Events.
We appeared in Edible Columbus magazine and I was asked to write an article for Lilipoh magazine.  I hired a summer intern to help with marketing and a virtual assistant to do bookkeeping.  I lined up a CPA and a photographer.  I started saying "we" in marketing materials because although I was a solo business owner, I was by no means doing this alone.
In July, I went to Atlanta for my second coaching event, spending 3 days with other purposeful entrepreneurs.  I came back inspired at the sheer potential alive in me and possible through this business!
We added another sheep and bunny, harvested spring meat chickens and roosters, and built a new brooder for all the chicks coming through the hatching program.
In August, my husband Chris and daughter Sequoia joined me in bringing animals to an event at Whole Foods Market.   Together, the three of us stopped most everyone, talking and encouraging them to touch chicks, rabbits and goats on their way in or out.  That day was just what I had wanted when I envisioned the business – full of lots of people, lively talking, excited children, cared-for animals, and my family.  It felt like by serving such a well-known client, that we were stepping over a threshold.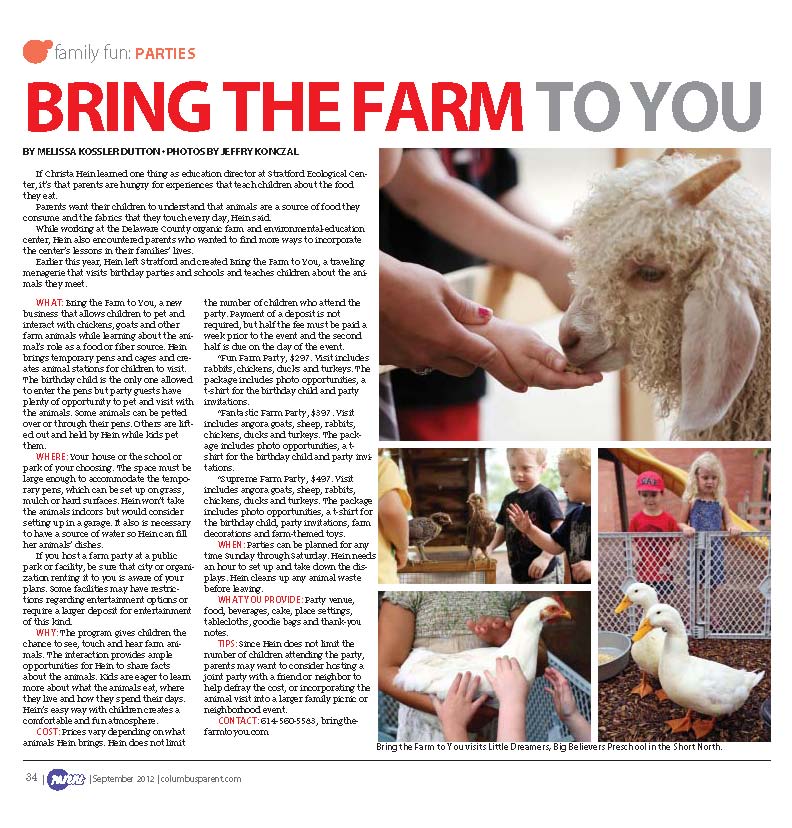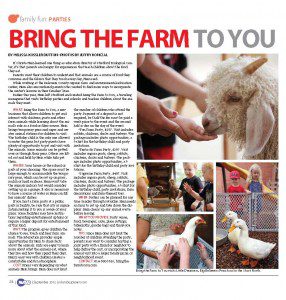 And it appears we were.  In September, we had a full-page spread in Columbus Parent Magazine.  And this week, we are appearing on Fox 28's news show Good Day Columbus!
With 300 postcards sent out within the last month, reservations are steadily coming in.  We're booked for farm animal events this fall and during the holidays, with schools already on the calendar for next spring.  We just began a 9-month garden program to consult on the installation and after-school education for a community garden at a low-income housing development.  It's exciting to think about all the people we'll meet and impact this next year!
Our trailer now acts as our billboard as we travel, graphically enhanced with our logo on a beautiful design.  The road is wide and open and I'm sure we are going great places.
A year ago at this time I was a mess.  But I followed my heart.  I took one step at a time, even though sometimes I couldn't see the next few steps ahead.  But when you want something, there isn't the choice of standing still.
And so I sit with my new lover, this business called Bring the Farm to You.  I envision the future and dream of what it will look like a year from now.  And I take the next small step on my journey by looking back and seeing how far I've come.  I step with gratitude into my new year.