School Programs
Bring the Farm to You was made for school environments! Our programs meet learning standards, add interest to your curricula, and can serve a single classroom, a whole grade level, or the entire school!
Whether it's to support your curriculum, reward learners for their hard work, or gather the school community together, we'll inspire, educate, and create a fun farm event that will be a highlight within your school year.
And the best part is that we come to you!  No need for permission slips, travel expenses, or time away from school. We'll Bring the Farm programs right to You!
Click on the picture links in the sidebar to explore how each program can support your school goals  – and then contact us to schedule your Bring the Farm to You program!
Benefits
Provides real-world experiences for your students
Simple and easy way to supplement your curriculum with a special project or topic
Exciting and inspiring experts in their topics
Everything is delivered to your door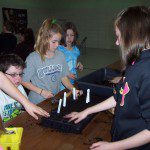 Why a Bring the Farm to You program?
Teachers can't possibly know everything about everything.  Bringing in an expert for a special presentation can supplement the teacher's curriculum in fascinating ways.
Children may not have adult role models that can teach them the basics of where their food and clothes from.  As children grow, they want to learn about their world and how they relate to it.  Topics about how we can provide for ourselves fascinate them and open up a world of possibility to explore.
Teachers are busy and don't often have time to research and plan a special project. Our programs are already assembled and ready to come right to you!  We provide the instruction, inspiration, equipment, set-up and clean-up.
Bring the Farm to You programs were designed by a professional educator who has worked with schools for over 20 years. We know what students, teachers and administrators want – and we deliver!
We literally deliver! All our programs come right to your school. No need for bussing, hours away from school, permission slips or chaperones.