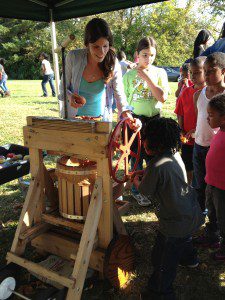 You won't want to miss this fun and tasty hands-on experience!  We'll bring the apples, the cider press, and all the equipment to involve your group in the thrill of making fresh apple cider.  We can share an in-depth classroom experience or a casual event-type demonstration – you pick!  Participants will get a chance to sample their sweet efforts.
In this 1-hour program, you'll receive:
• A hands-on seasonal experience for your participants
• An engaging and friendly instructor
• All the equipment and apples needed to produce fresh apple cider
• A taste of the season, engaging your audience in the heritage of cidering
* Note – Apple Cidering is now available year round!