Felting
Learn this beautiful art form in a hands-on class at your school or center, or with a group of family or friends for a creative party.
Felting has been around for thousands of years, keeping us warm with wool and beauty. Learn a little history of the techniques – and then make something beautiful! We'll walk you through it every step of the way!
Choose whether you'd like your program to focus on wet felting or needle felting. We'll provide all the supplies and equipment to help your participants practice this ancient and practical art form.
In this 1-hour program, you'll receive: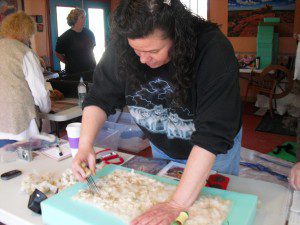 • An energetic and engaged facilitator
• Supplies for all projects
• Instructions for participants to take home
• A fun format for learning a creative new skill
• An experience that involves participants in the history of working with wool
Celia Kahle, Columbus Craft Collective
---
We had so much fun at the felting workshop and everyone learned a lot. There was a great variety of colored wool to choose from, samples of felt work and many books to peruse on the subject. Some of us made Christmas tree ornaments and others made animals. One woman made a dog with opposable limbs. We took home the project we had made plus felting needles, extra wool for other projects and a memory of a wonderful time spent with friends doing a beautiful craft. I recommend this felting workshop to the beginner and expert alike–it was fantastic!
Participant, Green Deer Woods
---
Christa, I totally enjoyed your felting workshop. You are an amazing instructor. And I ended up with a lovely felted piece. Thank you.