Chick Hatching
In this 3-week program, you'll get everything you need to hatch eggs right at your location.  The experience will begin with a Bring the Farm to You teacher visiting your group, sharing the excitment and process of chicken development through a one-hour program, and bringing you all the tools you'll need for your incubating adventure.  During the next 2 weeks, the life process will be uncovered as you and your audience keep watch over the delicate conditions of incubation in our see-through incubator.  As the eggs start cracking and chicks start emerging, you'll move them over into our warm brooder, giving them the conditions to thrive – heat, water and food.  For the next week, your group will watch the chicks grow, learning first-hand about the cycle of life.
In this 3-week program, you'll receive: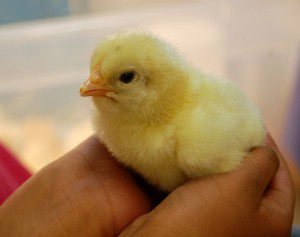 • 1 in-class "Chicken and the Egg" program with an enthusiastic Bring the Farm to You teacher
• 1 classroom incubator
• 7 fertile chicken eggs, with 2 weeks left of incubation
• 1 chick brooder with heat lamp, water dish, feed tray and 1-week's supply of chick food
• 1 chick hatching instruction manual
• 1 framed chick embryology poster
• Curriculum and worksheets
• Delivery and pick-up
• Free technical support
• And some fun extras!
Marisa, Newark Library
---
EVERYONE loves animals! It was so funny – yesterday morning we had one chick that had poked a tiny hole in its egg. All you could see of it was the very tip of its beak, and yet everyone squealed, "Oh my gosh, it's so cute!" Logically, it's not cute. It's the teensiest bit of a beak. But because we know that beak is attached to a soon-to-be fluffy chick, it's adorable. I really can't say enough about how wonderful this program has been. My only wish is that we could keep the chicks longer!
Wendy Huynis Student, Homeport Marsh Run
---
Thank you Miss Christa for the chick eggs. It showed us how to care for something other than oursevlfs. This was a great opportunity. Thanks, Wendy Huynis
Angelica Gaona & family, Columbus library patrons
---
I want to thank you so much for the experience to see these beautiful baby chicks. My children and I really appreciate it. My children love these baby chicks. We come to see them every day. Thank you so much.
Franklin Library staff
---
Our kids were in awe as they watched the eggs hatch. This whole process was a brand new experience for them.
Teacher, Mary Evans Childhood Development Center
---
What a great experience for the students. They saw chicks hatch – a miracle! Then some even experienced death. True life – awesome!