Live Farm Animal Visits

Bring the Farm to You!  Our live animal visits are one of our signature programs, providing real-life farm experiences for people all over Ohio.  These events make the joys of farming tangible, allowing your participants to touch the animals that provide our food and fiber.   Children and adults alike are delighted by holding a baby chick, watching a duck preen, or touching an animal whose coat could become their sweater.  This is a fabulous way to celebrate a special occasion, reward a school or classroom, or draw attention to an event at your location or business.
Live Farm Animal Visits will provide:
• Chickens, ducks, turkeys, rabbits, sheep, & goats
• A safe and engaging event for groups of all ages
• Information and education presented in a fun and exciting way
• An event your participants won't easily forget
Bring the Farm to You Learning Parties
Turn the idea of a party on its head with these skill-based parties where everyone walks away with something wonderful that they made with their own hands, while gaining the skills and knowledge to repeat the process!
Canning Parties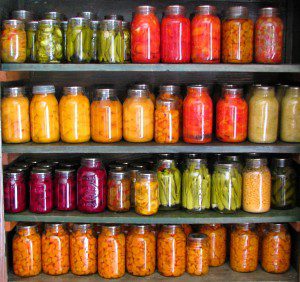 Canning is naturally a community experience!  Bring together a group of family and friends to spend a day in the kitchen turning the harvest into jars of celebration.  The Bring the Farm to You canning goddess will cart along pots, burners, tools, and even the produce if you'd like, transforming your kitchen into a production party.
In this 4-hour program, you'll receive:
• A fun and informative event led by an expert instructor
• Step-by-step instructions led in a clear and concise style
• Handouts and recipes
• All the equipment necessary to preserve your produce
• Produce, upon request
• The confidence to can again and again
Dairy Delicacies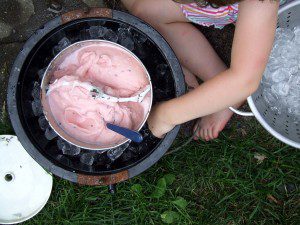 This tasty program is perfect for a family gathering, birthday party or scout event!  Gather a group of kids and adults together and we'll Bring the Farm to You!  Our dairy diva will provide all the ingredients and tools you'll need to make ice cream, butter, mozzarella and ricotta cheese.   Kids and adults alike will love to sample these udderly delicious treats made by their very own hands!
In this 2.5-hour program, you'll receive:
• A fun engaging presenter
• All the ingredients and equipment necessary to make butter, ice cream, mozzarella and ricotta
• Recipes and instructions
• A party that is sure to please the palettes and build the skills of all who attend
Felting Parties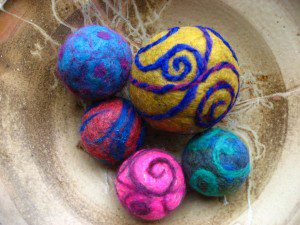 At a Bring the Farm to You Felting Party, your family and friends will have a fun and festive time creating items out of sheep's wool.  You'll learn the wet-felting method, using hot soapy water, to make a scarf, ball, or piece of felt fabric.  You'll also learn the needle-felting method, using special felting needles, to make sculptures, toys, or wall hangings.  Whatever you or your guests make, all are sure to take delight in this lively community experience.
In this 2-hour program, you'll receive:
• An energetic and engaged facilitator
• Expert instruction
• Supplies for all projects
• Instructions for all participants to take home
• A reason to gather your friends together without commercial pressure
• A fun format for learning a creative new skill
Green Cleaning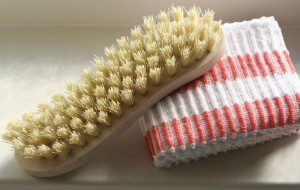 Gather your family and friends together for a Green Cleaning party.  While tempting, we don't mean that you'll invite your friends over to clean your house.  A Green Cleaning party is a chance to gather others together for a fun hour of making gentle, non-toxic household cleaners.  You, your family, your pocketbook and the whole environment will benefit from your switch to more natural ingredients.  We'll make the transition easy for you and your guests by bringing along our special Green Cleaning ingredients so that each participant can leave armed with his or her own natural cleaning toolkit.
In this 1-hour program, you'll receive:
• A knowledgeable and friendly instructor
• A Green Cleaning Guide complete with recipes, instructions and troubleshooting tips
• All the ingredients to make your own green cleaners
• Spray bottles, containers, and labels to create your own green cleaning toolkit
• The knowledge and tools to clean your house with Earth-friendly ingredients
Sheep to Sweater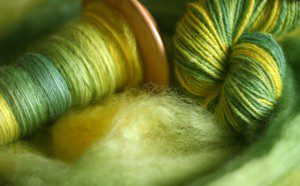 Wooly wonderment awaits in this sheepishly creative class!   Participants will use a raw fleece, fresh off a sheep's back, to learn sorting and washing of wool.  As the wool is being soaked, spindles will be made, wheels will be turned, and yarn will be spun. Finally, using both wet and needle felting, works of wooly art will be made.
In this 4-hour program, you'll receive:
• Expert instruction
• Visual aids
• In-hand samples
• Materials to make your own spindle
• Felting needles to use and take home
• Wool to use in class and to take home
• Clear and concise handouts
• Inspiration to begin or continue working with wool