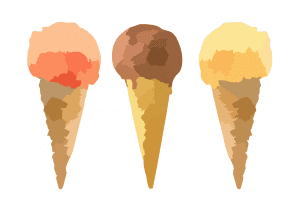 Has there ever been a sweeter national holiday than National Ice Cream Day?  This decadent holiday falls on July 19 this year, and we want to help you celebrate in the only appropriate way – by eating ice cream!
Try making your own before you travel to your nearest scoop shop. But if you crave sweet deals, be sure to check out this list of every place you can get free ice cream on National Ice Cream Day.
Homemade ice cream is super easy and is sure to make you the rock star of your family. And it's so simple the kids can do it while you lounge in the shade.
Here's the recipe I use for our Dairy Delicacies program…
Basic Vanilla Ice Cream
1 pint of half and half
1 & 1/2 teaspoons of vanilla
1/3 cup + 2 tablespoons of sugar
We use a Play and Freeze Ice Cream Ball to make ours, but there are some other techniques that are just as simple.
Put all ingredients into a quart baggie and seal. Put ice and rock salt into a gallon baggie and then place the smaller bag inside. Seal the larger bag. Then put on your favorite tunes and shake it like a polaroid picture!
If using your standard kitchen freezer, mix everything up and then stir every 15 minutes for 2 hours or until frozen.
If using a crank ice cream maker, add ice and rock salt to the outside of your ingredient container and crank for 20-30 minutes. Great way to work on your biceps!
Yield: about 1 pint of ice cream
If you're feeling more adventurous than just basic vanilla, Crazy for Crust's blog offers up 26 more easy ice cream recipes. Ooo, it's going to be a delicious day!
Click here to learn more about our Dairy Delicacies program or contact us here.