1/2 cup sugar
1 Tbs butter
3 eggs
1 cup milk
1/2 cup warm water mixed with 1 pkg yeast
4 cups flour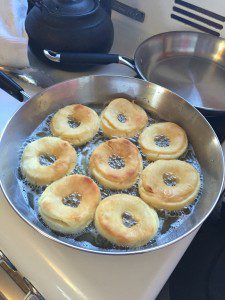 Add yeast to warm water and let sit for at least 10 minutes. Cream sugar and butter. Add eggs, milk and water with yeast.  Stir in 4 cups of flour (dough will be a little sticky). Cover with a towel, set in a warm place (like on a pilot light), and let sit for 20 minutes.
Flour a surface and dump the dough out onto it.  Flour the top of the dough. Roll or press the dough to about a 3/4″ thickness.  Use a small donut cutter to cut out your donuts.  Transfer the donuts to a towel.  (You can make donut holes with the middles if you'd like or just add them back to the dough for more donuts.)  Cover donuts with a towel and let rise for at least 20 minutes.
Melt enough vegetable shortening in a large deep skillet so that your donuts will be half-way submerged.  Using medium-low heat, cook donuts until just slightly browned and then flip them over and cook the other side. (Note that they will go from slightly brown to very brown – meaning crunchy – very quickly so don't get distracted). Remove donuts from oil and place on a paper towel to drain.  Transfer to a wire cooling rack.
Oma's donuts are wonderful fresh, covered with powered sugar.  They freeze very well.  To reheat, simply place in the microwave for 30 seconds and then sprinkle with powered sugar.  Enjoy!